Welcome to Ralph M. Pettersen's Constellation Survivors Website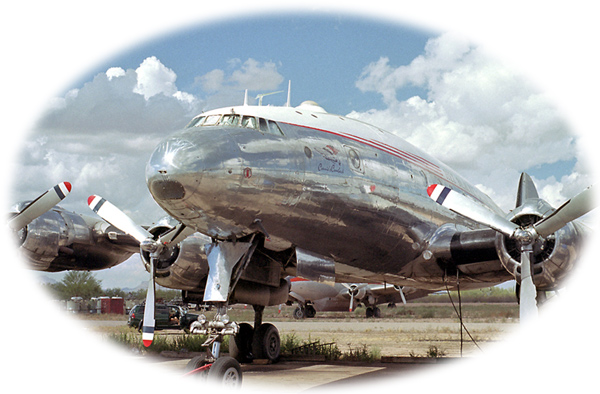 Arguably the most graceful and beautiful airliner ever built, the Lockheed Constellation celebrated its 60th birthday in 2003. Conceived by Howard Hughes in the late 1930's, the Constellation represented the ultimate in airline performance and luxury during the 1950's with 856 being built for commercial and military customers. Quickly displaced from frontline service by jet airliners in the 1960's, there are about fifty-five "survivors" of the mass scrappings of the 1960's and 70's, with only C-121C's VH-EAG and HB-RSC currently airworthy.
SURVIVORS
RECENTLY SCRAPPED -- PRESUMED SCRAPPED -- WRECKS & HULKS
CONSTELLATION NEWS
Super Connie AP-AFQ Removed From Survivor List – February 27, 2014

Castle Air Museum Acquires Helena EC-121T – February 21, 2014

1980's Era Photos of N6931C Cockpit Section Surface - February 17, 2014

CONSTELLATION Q&A FORUM
LINKS
OTHER CLASSIC PROPLINER NEWS AND ARTICLES
While this is the "Constellation Survivors" website, I have decided to include news and articles about other classic propliner aircraft that might be of interest to the enthusiast.
ARTICLES
Camarillo Connie Makes Final Flight - January 14, 2012

1997 Swissair DC-4 Flying Adventure – December 2012 - by Rainer Spoddig

Breitling DC-3 Sightseeing Trip – August 2011 - by Rainer Spoddig

August 1998 MATS Connie Flight – December 2010 - by Rainer Spoddig

Connie Stories From MCI – A Junior Mechanic's Perspective - February 2010

Michael S. Prophet Photo Collection - Constellations and Super Constellations - November 2009

Gerard Helmer Photo Collection - Constellations and Super Constellations - May 2009

Stephen Miller Photo Collection - Part 1 - Constellations - February 2009

Stephen Miller Photo Collection - Part 2 - Super Constellations - February 2009

Stephen Miller Photo Collection - Part 3 - Willy Victors and EC-121's - February 2009

Preserving the Legacy – Naval Aircraft Restoration Foundation - May 2008

SCFA Super Connie - Hamburg Airport Days - September 2007 - by Rainer Spoddig

United Airlines Employees Spearhead Restoration of NASM Super Connie - January 2008

SCFA Flying Adventure - Part 2 - September 2006 - by Rainer Spoddig
SCFA Flying Adventure - Part 1 - June 2006 - by Rainer Spoddig
The Crash of L1049H N45516 on 11 May 1975 near Mesa, Arizona - by Cam and Chris Baird
Colchane's Mystery Starliner - April 2006 - by Steven Raczynski
Super Connie Crash Landing at NAS Fallon in December 1952 - January 2006
Auction of The Chacalutta Connie - January 2006 - by Steven Raczynski
Navy WV-2 Super Connie Crash at McMurdo Sound in 1960 - October 2005 - by Ricky DeRoo
SAVE-A-CONNIE Celebrates TWA's 75th Anniversary - June 2000 - by Michael S. Prophet
Chacalutta Connie - A Good Girl Gone Bad - May 2004 - by Rob Jennings
Connie's Comeback From The Cockpit - January 2003 - by Henk de Waard
Connie's Comeback - Restoration of L749A N749NL - September 2002
The Impossible Dream - Starliner N974R Flies Again - October 2001
BOOK NEWS
Gary Squire's book on the HARS Connie is now available. Gary has been intimately involved in the project from the beginning, so he is the ideal person to write this compelling story. The book is A5 size with 137 pages and includes many previously unpublished photographs in color and black and white. Several color profiles of "Connie" in her various incarnations were prepared by noted aviation artist Juanita Franzi specially for the book. The author describes in great detail the search for the airplane, its acquisition, its restoration and culminates in its triumphant arrival in Sydney. As an active participant in the project, Gary is able to convey to the reader all the trials, tribulations and disappointments which would have defeated a less dedicated team. This is not just the story of an airplane, albeit a very special one. It is the story of the people who realised the long-held dream of generations of Australians who love beautiful airplanes. Appendices include reproductions of the various official documents which facilitated Connie's historic flight to Australia. There are also technical specifications and a listing of all Connies currently flying worldwide. If you are interested in Connies, this book will not disappoint. "Bringing Connie Home" is highly recommended. For information on ordering the book: Bringing Connie Home
CREDITS AND SOURCES
The Lockheed Constellation Series, Peter J. Marson, Air-Britain Publication, 2007
Piston Engine Airliner Production List, A.B. Eastwood and J. Roach, TAHS, October 2002
Lockheed Constellation, Stewart Wilson, Notebook Publications, 2001
Propliner Aviation Magazine
Your comments regarding this website would be very much appreciated. Please contact me about any errors you see and information you might have about a "Survivor". Photos of "Survivors" would also be very much appreciated.
Ralph M. Pettersen
----Created 26 January 2004------Updated 27 February 2014----