Connie Needs a Nose
October 2007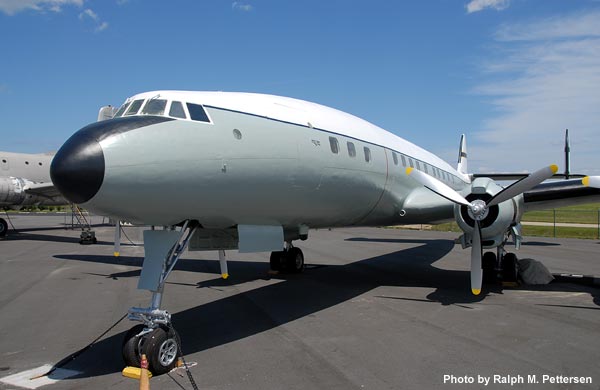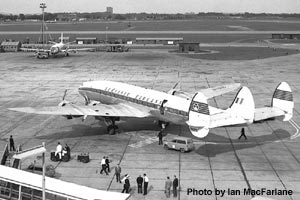 The Air Mobility Command (AMC) Museum at Dover AFB, Delaware is finishing up an amazing restoration project. The volunteers at the museum have transformed Super Connie L1049E c/n 4557 from a cocktail lounge into a pretty fair facsimile of a C-121C military transport. What it's lacking though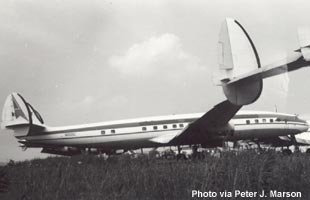 is the long radar nose installed on all C-121C aircraft. The museum's aircraft was delivered new to Cubana as CU-P573 in November 1954. Sold to Seaboard and Western Airlines in March 1956 as N1005C, it was never used by Seaboard to haul freight but instead leased out to BOAC, Eastern Airlines and Irish Airlines for passenger work. The Super Connie was traded to Canadair in 1962 as partial payment for the airline's newly purchased CL-44 freighters. Leased to Capitol International Airlines in June 1965 and later sold to them, the aircraft was retired in 1967 and stored with many other Capitol Super Connies at Newcastle Airport in Wilmington, Delaware.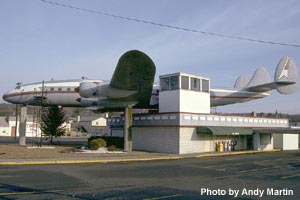 Rather than being scrapped, the aircraft was purchased by Jim Flannery in August 1967 for use as a cocktail lounge atop his restaurant in Penndel, Pennsylvania. N1005C opened for business above "Jim Flannery's Restaurant" in August 1968 and for 29 years it was a local landmark along U.S. Route 1 in Penndel. All good things must come to an end and in July 1997 she was hoisted back down to earth to make room for an Amoco service station. Instead of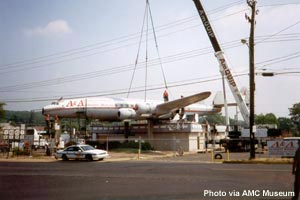 scrapping the airplane, the enlightened folks at Amoco donated the aircraft to the AMC Museum and she was moved by road to Dover on October 25, 1997. The aircraft was stored disassembled at the museum until July 2003, when she was reassembled using the engines, props and undercarriage salvaged from NC-121K BuNo 141292. These components had been discarded when N1005C was converted to a cocktail lounge back in 1968. (BuNo 141292 was unfortunately being scrapped in 1999 after the demise of the Florence Air and Missile Museum in Florence, South Carolina. It was the last U.S. military Constellation in service when it was retired in June 1982 and flown to the museum for display.)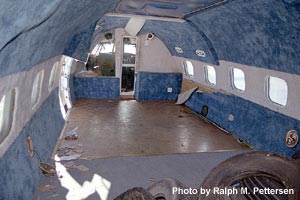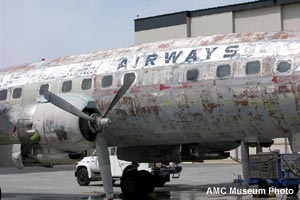 Restoration work, including removal of the gaudy cocktail lounge interior, installation of a rear door also salvaged from BuNo 141292 and a fair amount of sheet metal work continued at a steady pace inside the museum's restoration hangar. In April 2007 the old girl was towed to the Dover AFB wash rack for removal of her numerous coats of "restaurant" paint. Lo and behold, remnants of Capitol International Airways titles emerged from under the paint! With the cleanup complete, the painters started their work the first week of June and, during the next five weeks, the aircraft was painted in mid-1950's MATS colors with the false serial number 40315 (54-0315).


As you look at the photo of the finished product you probably notice that the aircraft just doesn't quite look right. Other than some minor details, including window placements, the obvious feature of the aircraft that will catch the enthusiast's attention is the short radar nose. All C-121C's had a longer radar nose, which also incorporated a plug/fairing to mate the forward fuselage to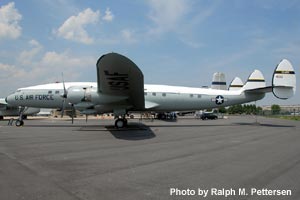 the radar nose. With many hundreds of military and civilian Super Connies incorporating this longer radar nose, you'd think it would be a fairly simple task to find one to put the finishing touches on the restoration. If you thought so, you'd be wrong! The museum has been looking for a nose and plug for over a year with little success. They've enlisted my assistance and I've checked all my contacts with just about the same results. The airplane needs a new nose and hopefully someone reading this article knows about one sitting in someone's barn or shed collecting dust. If you can help, please email me or Mike Leister, Director of the AMC Museum. Mike's phone number at the museum is (302) 677-5939.

Ralph M. Pettersen
October 2007

Photo Credits: Ian MacFarlane, Andy Martin, AMC Museum, Peter J. Marson, Ralph M. Pettersen







----Created 20 October 2007----