Breitling Super Constellation
May 2004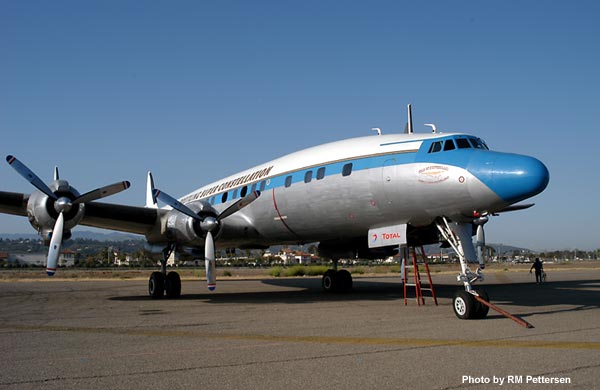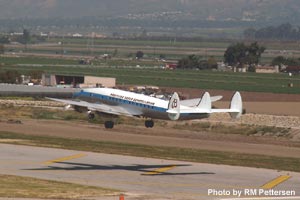 At 9:54am local time on April 26, 2004 the former "Camarillo Connie" departed Camarillo for probably the last time and headed east for her new home at Basle-Muhouse Airport in Switzerland. Renamed the "Breitling Super Constellation", the Swiss based Super Constellation Flyers Association (SCFA) will jointly operate her for five years on the European airshow circuit with current owner, the Constellation Historical Society (CHS). After five years of joint operation, the SCFA plans on purchasing the aircraft and continue operating it on the European show circuit. To say the least, anticipation and excitment on both sides of the Atlantic increased as the planned April 26th departure date approached!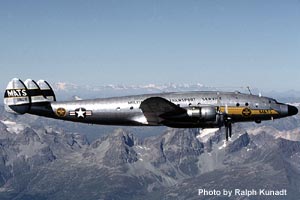 Francisco Agullo has long dreamed about bringing a Super Constellation back to Europe and flying it on the European airshow circuit. After the MATS Connie's wildly successful tour of Europe during the summer of 1998, it was obvious that operating a Constellation on the Europe airshow circuit would be feasible. Along with Peter E. Kalt
and Peter Manzoni, Francisco formed the Super Constellation Flyers Association (SCFA) in June 2000. Francisco first considered purchasing one of Maurice Roundy's L1649A Starliner Constellations, which were for sale for $250,000 each. He visited Maurice Roundy at his home at the Auburn-Lewiston Airport in Maine and inspected the two Starliners (N7316C and N8083H), which were parked in Maurice's front yard. While the aircraft were in relatively good condition, Francisco was concerned about the availability of spares and engines and decided not to purchase either aircraft. He turned his attention to ex-Aerochago C-121G, HI-583CT, which had been parked at Santo Domingo for a number of years.

HI-583CT was delivered to the U.S. Navy in September 1953 as R7V-1, BuNo 131636. Five years later it was redesignated a C-121G and transferred to the U.S. Air Force. After service with the Wyoming ANG from 1963 to 1971 and later with the USAF Reserves, the veteran was retired to Davis Monthan AFB in May 1978. Sold to DMI Aviation in November 1989 and registered N2114Z, the aircraft was sold to Aerochago, a Dominican freight operator, as HI-583CT a
few months later in January 1990. It was a regular visitor to Miami and Puerto Rico until Dominican propliner operators were banned from operating into the United States in 1993. Although HI-583CT (c/n 4137) had only been flown once since 1993, it appeared to be in good condition and, in June 2000, the SCFA purchased the aircraft for a very reasonable price. Francisco planned on ferrying the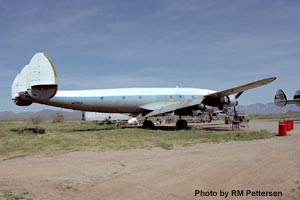 airplane to The Constellation Group's facility at Avra Valley Airport near Tucson, Arizona where the restoration would take place. It was made ready for the ferry flight, registered N105CF and on November 7, 2000 was successfully flown to Opa Locka, Florida by a crew consisting of Frank Lang, Francisco Agullo and Carlos Gomez. Additional work was performed on the #2 engine and, on January 4, 2001, the same flight crew set off for Avra Valley. Due to additional problems with the #2 engine and a broken hydraulic line, an unscheduled stop was made at Conroe, Texas, where repairs were made. The final leg from Conroe to Avra Valley was flown on January 7, 2001 where she joined the MATS Connie (N494TW) and C-121A N749NL, which was being restored by the Dutch Aviodome Museum.

Volunteers quickly began the restoration and the group acquired a "spares" airplane, EC-121T 53-535, which had been stored for many years at the Minden Air Corp facility adjacent to Davis Monthan AFB. By June 2002 four layers of paint had been removed, the #2 and #4 engines sent for overhaul, fuel tanks cleaned and sealed, rudders from 53-535 removed and recovered, the nose gear from

53-535 installed, wing attachments inspected, flight and engine gages overhauled, master control units overhauled, interior and cargo holds cleaned, and AD work completed on the #2 and #4 propellers. Parked adjacent to the Dutch Aviodome's C-121A, the two groups shared information and tools and all seemed to be going well. Both groups planned on restoring their aircraft for the European airshow circuit with the goal of receiving standard airworthiness certificates from the FAA. After September 11, 2001, the FAA tightened up certification requirements and Francisco became convinced, after the Aviodome's experience with N749NL, that it would be difficult to obtain a standard airworthiness certificate for the aircraft. The group's main goal had always been to fly its members to and from airshows and an experimental airworthiness certificate would prohibit this. Faced with these facts after the expenditure of considerable resources, the SCFA decided to halt the restoration of N105CF in August 2002 and explore other possibilities.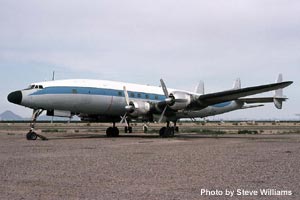 One of those other "possibilities" was C-121C N73544, which was affectionately known as the "Camarillo Connie". Operated by the Constellation Historical Society (CHS) and based at Camarillo, California, it had received a "standard" airworthiness certificate in 1985 and would be allowed to fly SCFA members. Delivered to the USAF in September 1955 as 54-156, it was based at Charleston AFB before serving with the Mississippi and West Virginia ANG. Retired to Davis Monthan AFB in March 1972 the aircraft was transferred to the Smithsonian Institute, which traded it for
Boeing 307 N19903. (The Boeing has been beautifully restored and is currently is on display at the Smithsonian's Udvar Hazy Center at Dulles Airport.) Benny Younesi purchased N73454 in January 1982 and she was stored at Camarillo, California from 1984 to 1992, when Younesi formed the CHS. Restored to flying condition, the aircraft made its first post restoration flight on June 23, 1994 and joined the U.S. west coast airshow circuit. It was offered for sale on eBay in January 2002 where a bid of $600,000 was received and
declined by Younesi. At that time, he was quoted as saying that he would be willing to sell the aircraft for $1,000,000. The SCFA entered into negotiations with Benny in the fall of 2002 and in /A>December 2002 announced to its membership that it intended to bring N73544 to Europe. Just when things seemed to be falling into place, the project's major sponsor pulled out due to concerns about the financial viability of the project. After several months of additional negotiations with Benny, a five-year lease/purchase agreement was verbally agreed to and the project was back on track. A contract specifying the terms of agreement was signed on December 17, 2003, the hundredth year anniversary of powered flight. A very fitting day to sign such an agreement!

I arrived at Camarillo on Saturday April 24, 2002, where final preparations were proceeding at a feverish face. The Swiss watch manufacturer Breitling had recently signed up as the project's major sponsor and "Breitling Super Constellation" titles were being applied to the fuselage. The French fuel company Total will be helping out with fuel and their logo was being applied to the nose

gear doors. In addition "Star of Switzerland" titles had been applied to the nose of the aircraft. An HF antenna wire was being installed and cosmetic details such as prop and nacelle polishing were also underway. Double seats had been refurbished and I got my hands dirty that afternoon assisting in their installation. Final preparations continued on Sunday April 25th. Francisco spent a considerable amount of time performing the required aircraft familiarization and safety briefings for those SCFA members accompanying the flight. From what I observed on Sunday morning, it was obvious that the flight was going to be performed in a safe and professional manner. Finally, the aircraft was deemed ready for flight and the members and flight crew headed back to the hotel for a good night's rest prior to Monday morning's departure.

Monday morning dawned clear and bright and by 8:00am the aircraft was a beehive of activity. Final details were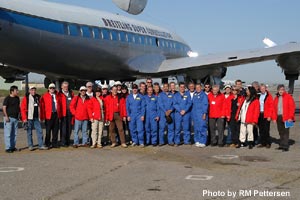 attended to and group pictures taken before the flight crew and members climbed aboard at 9:00am for the first leg of the trip to Omaha, Nebraska. The flight crew consisted of pilots Pat Farrell, Francisco Agullo, Ernst Frei and Patrick Danelet and flight engineers Jerry Steele and Carlos Gomez. Pat and Jerry are long time CHS members, Ernst a retired B747 captain, Patrick a current B757 captain and Carlos the president of Florida Air Transport, a Florida based DC-6/7 freight
operator. Monica Blattmann, a retired Swissair flight attendant, attended to the members riding back in the cabin. The first engine fired up at 9:25am and after a thorough engine runup and systems check, the "Camarillo Connie" was ready to depart Camarillo, for the final time, at 9:50am. After waiting for the photo plane get positioned, brakes were released, takeoff power applied and the old girl began her takeoff roll using most of Camarillo's 6,000 foot runway 26. I was lucky enough to have a seat in the Bonanza photo plane and witnessed the liftoff at 9:54am. We followed the aircraft west to the Pacific for some air-to-shots before she departed east to begin her long trek to Europe.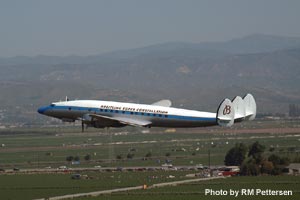 After departing Camarillo the Super Connie climbed to 10,000 feet and headed for Tucson, Arizona where she circled Avra Valley Airport in Marana and the group paid their respects to N105CF, which is still parked on the Constellation Group's ramp. From there it was on to El Paso, Texas and then direct to Omaha, Nebraska where the aircraft landed after a 7 hour, 45 minute flight. Due to forecasted storms and icing, the flight to Manchester, New Hampshire was delayed a day until Wednesday April 28. At 9:00am engines were started and shortly thereafter, the Connie was climbing to its cruising altitude of 7,500 feet. Overflying Chicago, Illinois and Cleveland,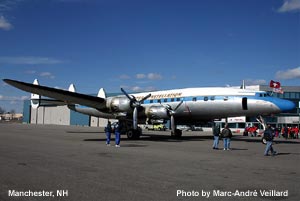 Ohio, the group was treated to a spectacular view of Niagara Falls where the aircraft descended to 3,500 feet and circled the falls. After a flight of 5 hours and 40 minutes, the aircraft landed at Manchester, New Hampshire. Good weather continued to favor the flight and, on Thursday morning at 11:45am, the Super Connie departed Manchester for the 3 hour 30 minute flight to her next stop, Stephenville, Newfoundland. A slight diversion was made to the Auburn-Lewiston Airport in Maine where they circled Maurice Roundy's house and two parked Starliners, N8083H and N7316C. After landing at Stephenville, Francisco, Pat and Jerry took to the air again to provide some takeoff, low pass and landing video for the Swiss film team accompanying the group. There were some tense moments when the nosegear refused to extend properly but the crew managed to get three green lights and an uneventful landing was made.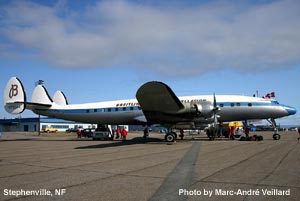 On Friday morning, the problem was traced to a defective hydraulic actuator seal on the nosegear. Replacing it required a jack to lift the nose of the aircraft, which was not available at the airport. A fixture was manufactured locally and, using a 20-ton forklift, the nose of the aircraft was raised and the repair made. On Saturday, May 1st the aircraft made a successful flight test after which it was decided to skip the stop in
Keflavik and proceed directly to Prestwick, Scotland. The decision was the result of a forecast of good weather over the North Atlantic on Sunday May 2nd, which would deteriorate on Monday. Just before dawn on Sunday morning, N73544 departed Stephenville for the non-stop flight to Prestwick, Scotland. To everyone's joy, the Super Connie arrived safely at Prestwick 9 hours and 15 minutes later at 6:45pm local time. With the dangerous North Atlantic crossing now behind them, the crew and members could savor their accomplishment and look forward to the upcoming week's events at LeBourget and arrival at Basel-Mulhouse. The week at Prestwick was spent cleaning and prepping the aircraft.

On Thursday morning May 6th, the contingent departed Prestwick for Paris-LeBourget. Weather conditions were not ideal and the departure was made 90 minutes early, at 9:30am, to avoid afternoon thunderstorms forecast for Paris. After a 2 hour 45 minute flight, the aircraft landed safely at LeBourget and was greeted by hundreds of well wishers and a water cannon salute by the airport

fire brigade before receiving an official welcome at the Musee de l'Air. After almost two days of showing off the airplane to special guests and sponsors, it was time to make the final leg of the journey. Saturday morning's weather was not the best with a cold rain but at 10:00am the old girl lifted off the runway and quickly disappeared quickly into the low clouds.

On Saturday May 8, 2004 at 11:30am local time, N73544 landed safely at Basel-Mulhouse Airport in Switzerland where she and her crew were welcomed by a very enthusiastic group of over 1,000 well wishers and enthusiasts. As with LeBourget, a water cannon

salute was performed by the airport fire brigade. After the aircraft came to a stop, the doors opened and the flight crew emerged and a few short speeches were made prior to the aircraft being opened for tours. The journey was over and, after almost four years, Francisco and the SCFA had accomplished their goal of bringing a flying Super Constellation to Europe.

The Super Connie will have a very busy schedule this summer. A number of 2004 airshows have already been booked with the following shows confirmed. ILA, Berlin – May 10-16 Ebace, Geneva – May 25-27 Ferté-Alais – May 29-30 (plane on display at Le Bourget) Bern, Switzerland – June 26-27 Duxford, UK – July 10-11 Fêtes de Genève – August 8 Zurich, Switzerland – September 11-12 If all goes as planned, at the end of five years, the aircraft will be purchased and operated solely by the SCFA. Due to Swiss Federal Office of Civil Aviation regulations, flights on N73544 will be restricted to SCFA members and the sale of tickets at airshows will be prohibited. How can one become a member of the SCFA? Cost of membership is 80 Euros per year and information on how to join the organization can be found on the group's website: SCFA Website.

The future of N105CF remains in question. The aircraft, currently stored at Avra Valley Airport, is close to being airworthy and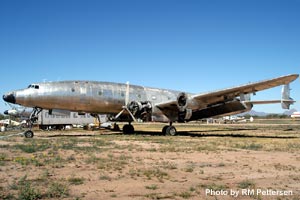 hopefully will find a new home at an organization or museum that completes the restoration started by the SCFA. Maybe one day it will be restored and flown on a regular basis but a more likely fate is that of a static display. For additional information about this and other Constellations survivors, please refer to my website at www.conniesurvivors.com

I'd like to thank Francisco Agullo, Benny Younesi, Patrick Danelet and Richi Wegier for their assistance in the preparation of this article. Without their generous assistance, the article would not have been possible. In addition, Peter J. Marson's 1982 book The Lockheed Constellation Series provided much of the historical information regarding the aircraft.

Ralph M. Pettersen
May 2004

Photo Credits: Ralph Kunadt, Torsten Maiwald, Graham Robson, Steve Williams, Ron Mak, Michael Carter, Marc-André Veillard, Fred Seggie, Emmanuel Taillet, Michael S. Prophet, RM Pettersen







----Created 7 July 2004----Updated 8 July 2004----